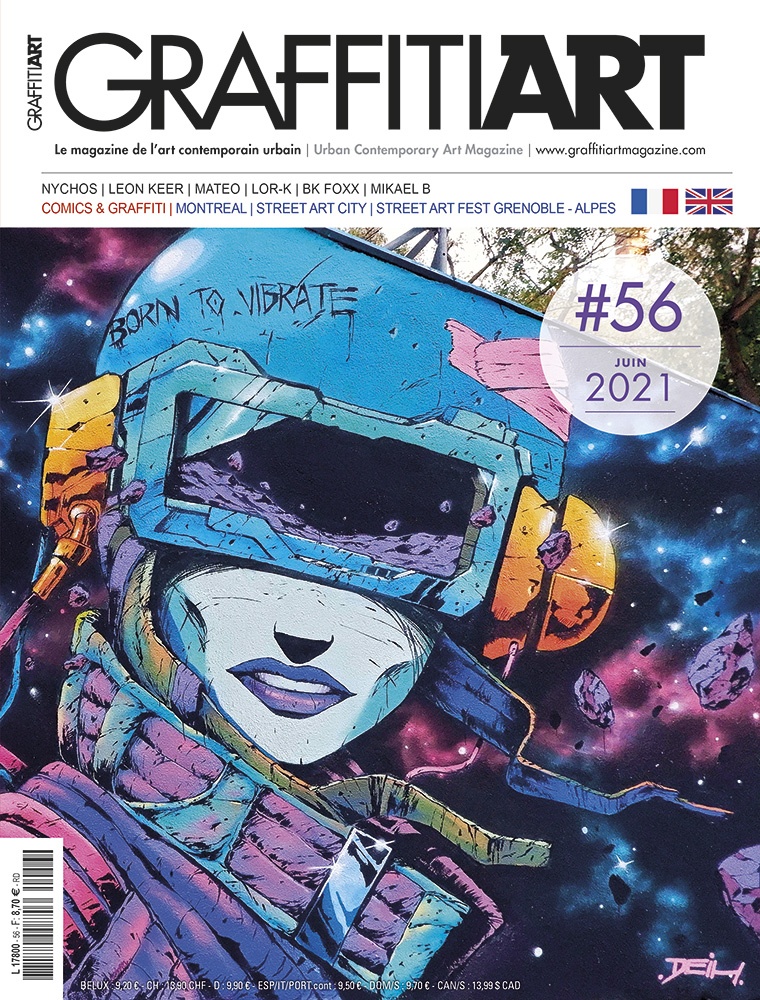 1 Destination 5 Spots
STREET ART MONTREAL
Place2Art
STREET ART CITY
Dossier
COMICS & GRAFFITI
Artists
NYCHOS / LEON KEER / LOR-K / BK FOXX / MIKAEL B  / MATEO
Fingers crossed…
EDITO #56 | June 2021
Cultural spaces, festivals, urban art fairs and galleries are slowly reopening… These new convivial moments could make us forget our isolation. Street artists and their fans are reuniting in the shadow of new murals. The scent of spray cans and paint smells like unabashed Street Art. Oh, freedom! Oh, long-awaited insouciance!
And, after such a strange year, we are craving frivolity… In this issue, we explore the close relationship between Street Art and comic books, plus the ingredients that make both so addictive.
New horizons ahead
Now, we are craving new horizons, too, so we will take you to the Street Art scene of Montreal to tell you all about the districts and murals you should check out… But travelling long-distance to paint or see murals is likely to remain problematic for a while, with street artists and their fans having to stick to their local scenes. This is why we are highlighting two destinations that are easy to access (for those of you in France!): the Street Art Fest Grenoble-Alpes (FR) featuring 200 murals and the Street Art City of Lurcy-Lévis in the Allier department (FR), where more than one hundred artists have taken over a former training center.
Street Art as lens for discovering the world
We thought we could also travel through the various perceptions of reality developed by the artists featured in this issue. While Nychos observes and dissects living things with surgical precision, Leon Keer likes to confuse us and play with our senses, turning drawings into objects… Lor-K turns the waste of our societies into street artworks, while Mateo develops a similar transformative approach that questions our cultural identities. As for BK Foxx, she captures moments, sparks emotions and changes mere walls into snapshots of daily life that make our smartphones green with envy. In yet another style, Mikael B has forged his own abstract language, inviting the audience into his imaginary world.
What if we look at the world through the lens of Street Art?