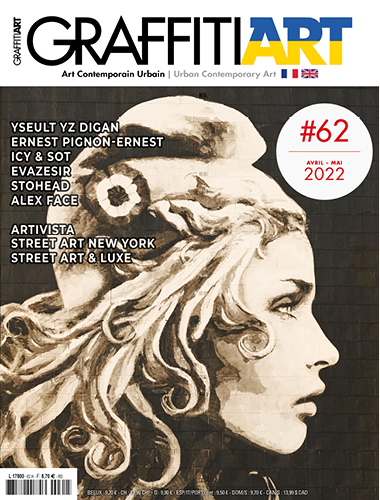 Expert Eye
THE URBAN ART MARKET
1 Destination 5 Spots
STREET ART NEW YORK
Investigations
STREET ART & LUXE
Talents
YSEULT YZ DIGAN / ERNEST PIGNON-ERNEST / ICY & SOT / EVAZESIR / STOHEAD / ALEX FACE
A breath of fresh Urban Art
EDITO

#62 | April – May 2022
Spring is coming and Urban Art is taking a breath of fresh air, but also holds its breath and continues its fight for democracy here and elsewhere! Why not follow it and see where it leads us?
New York will be our first stop. From the origins of vandal graffiti to the birth of muralism, New York is the crossroads of countercultures and the cradle of creativity. Next stop: In Da Friche (France), where Urban Art has taken hold of a former military base, and where we will immerse ourselves in urbex graffiti.
On the pioneering front, we will meet artist Ernest Pignon-Ernest, whose mastery of place and statement has lent its credentials to Urban Art. To continue with artivism, Yseult YZ Digan places 'her' women at the heart of the struggle, and the Iranian brothers Icy & Sot address the downfalls of a society with corrupted values: armed violence, child labour, climate change… As for Alex Face, he questions us with seeming candour about the future of the next generations, while the duo EvazéSir reflects on the passing of time and the erasure of memory. And, with his unique style, STOHEAD experiments with "abstract writing" at the crossroads of urban calligraphy and abstract painting.
And since Urban Art is no stranger to contradiction, we will explore the complex relationships between its democratic essence and its elitist face, when collaborating with luxury brands and flying at vertiginous auction heights.
GraffitiART is pleased to announce its partici pation in the Urban Art Fair in Paris from 12 to 15 May 2022. We would be delighted to meet you, and share with you our guides and past issues of our magazine!
May Urban Art blossom!