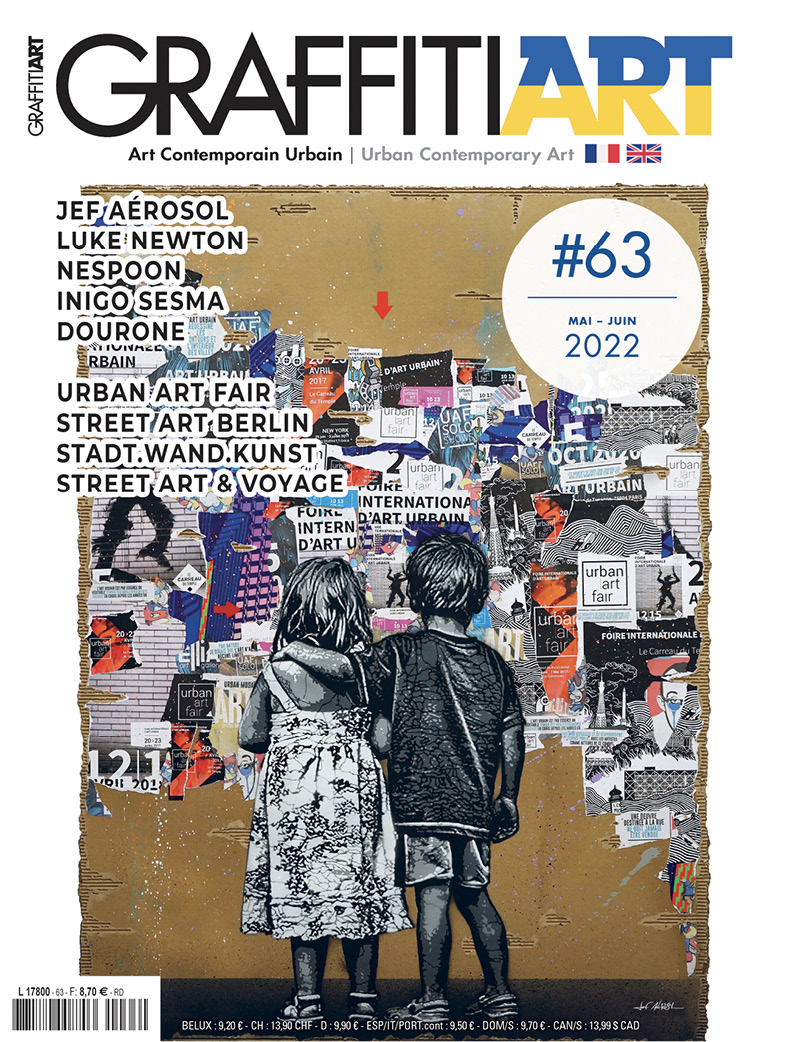 Innovation
STREET ART, A BACK TO OFFICE ALLY
1 Destination 5 Spots
STREET ART BERLIN
Place2Art
STADT.WAND.KUNST
Investigations
STREET ART & TRAVEL
Talents
JEF AEROSOL / LUKE NEWTON / NESPOON / INIGO SESMA / DOURONE
Putting up resistance
EDITO

#63 | May – June 2022
Times are hard! To get some fresh air, we need to travel and explore new horizons. After all, creativity springs from new encounters.
This issue will take you to Berlin, the mecca of graffiti in Europe and a Street Art lab during the fall of the Wall. Still in Germany, Stadt.Wand.Kunst, with its big murals in Mannheim, is blowing a breath of fresh and militant air.
Street Art is both an artistic and a political movement, but it can also be used as a management tool as you will discover through the collaborations between artists and staff of the Europcar Mobility Group who revamped the company's nearly deserted facilities following the two years of COVID.
All these achievements have in common being carried out by artists with unique styles. In this issue of GraffitART, Jef Aérosol's topical stencils enter into dialogue with the powerful yet subtle messages of Luke Newton's works. As for Inigo Sesma, his incredibly realistic works balance the ordinary and the extraordinary. And because Urban Art can also be decorative, we will show you how NeSpoon's delicate laces and Dourone's sensual portraits embellish our towns.
GraffitART is happy to announce its participation in the Paris edition of the Urban Art Fair from 12 to 15 May. Stop by and say hello!
Last but not least, with the cost of paper having trebled in the past 12 months in the wake of the public health crisis, the press sector is going through a rough patch – GraffitiART is hanging in there and will not break!
Urban Art is putting up resistance!