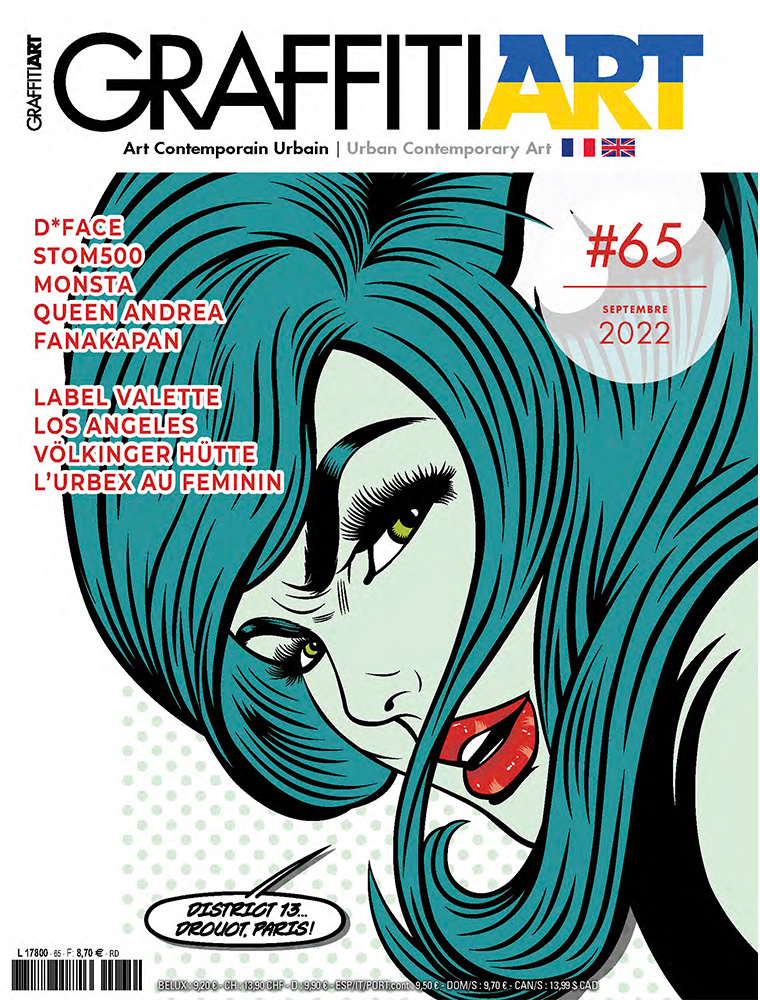 1 Destination 5 Spots
STREET ART LOS ANGELES
Place2Art
VÖLKLINGER HÜTTE
Outdoor
LABEL VALETTE FESTIVAL
Investigations
WOMEN OF URBEX
Talents
D*FACE / STOM500 / MONSTA / QUEEN ANDREA / FANAKAPAN
Urban Art at its peak
EDITO

#64 | September 2022
Festivals have been in full swing this summer despite the heatwaves, and Urban Art has had a field day.
Before it ends, though, let's make a stop at the LaBel Valette Festival in Pressigny-les-Pins (FR), where the XIXth‑century Valette castle has been handed over to urban artists such as Lek & Sowat.
The Urban Art Biennale at the Völklinger Hütte, a former ironworks that has since become a heritage site, is another must destination. This giant facility overflows with murals spreading across the city of Völklingen (DE).
A bit further away, our last stop will be Los Angeles (US), a giant protean city where Urban Art flourishes in every shape and form.
But Urbex has taught us that Urban Art is not always so accessible. This issue will explore the discipline through female eyes.
To dive deeper into the creative world of individual artists, we will meet D*Face and his love story with graphic art, Stom500 and his animal mumble-jumbles as well as Monsta with his heroic fantasy. This issue also brings you the brightly coloured worlds of Queen Andrea, a spray-paint virtuoso who spreads cheerful messages throughout the world, and Fanakapan's pop influences with his 3D-looking balloons.
In September, we will celebrate Jef Aérosol's 40-year-long career in stencil with an exceptional exhibition held in front of the Bibliothèque Nationale de France, in Paris, from 24 September to 5 November. And don't forget to come see us on the GraffitiART booth at District 13 from 15 to 18 September.
An Indian summer of Urban Art.