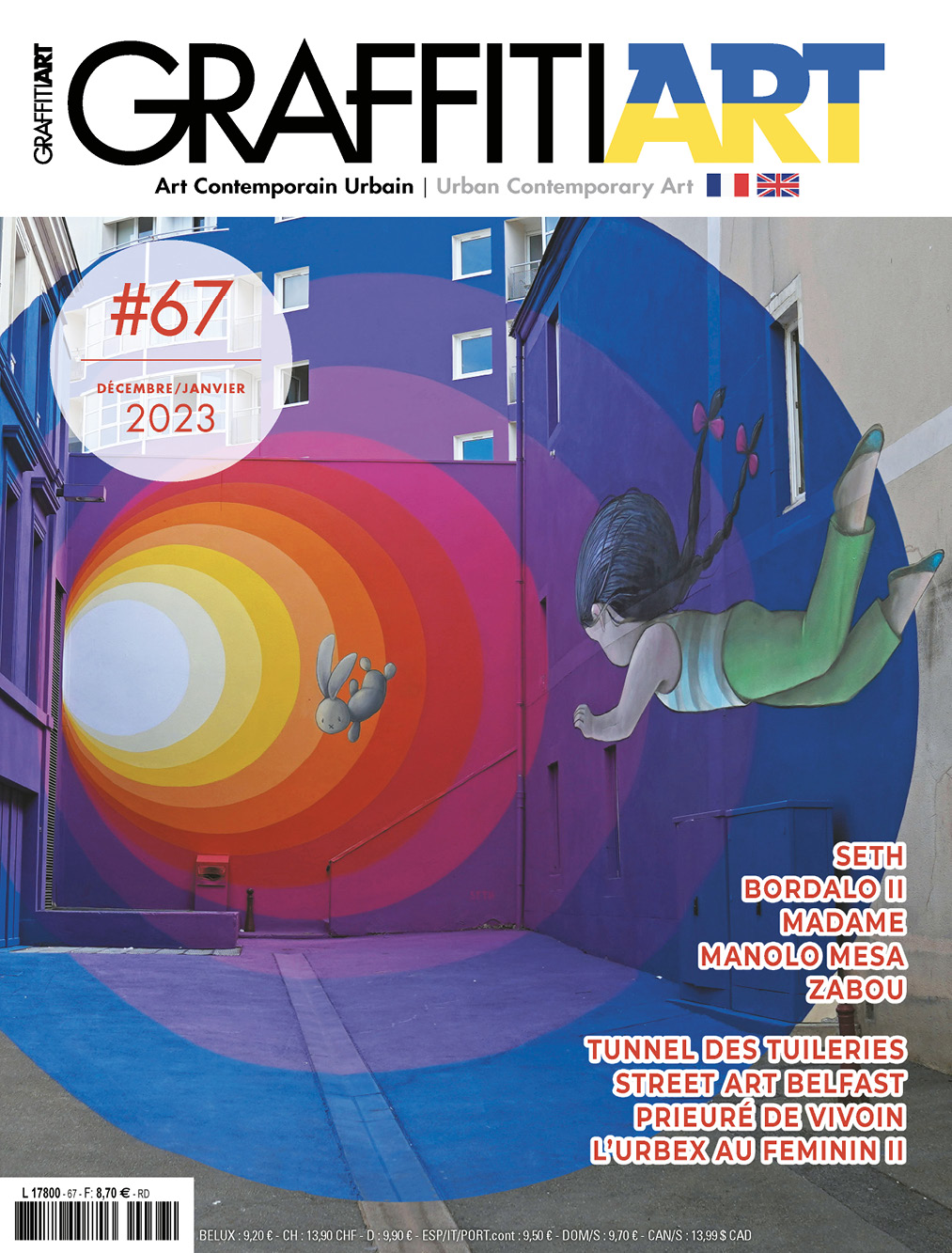 1 Destination 5 Spots
STREET ART BELFAST
Place2Art
PRIERE DE VIVOIN
Outdoor
TUNNEL DES TUILERIES
Investigations
WOMEN IN URBEX II
Talents
SETH / BORDALO II / MADAME / MANOLO MESA / ZABOU
Street Art celebrates
EDITO

#67 | December-January 2023
With the holiday season approaching, Urban Art shines with a profusion of colours and creativity that bring a touch of optimism in the midst of a troubled period. The success of the exhibitions Capitale(s) 60 ans d'Art Urbain and 40 ans de pochoirs by Jef Aérosol are proof that Urban Art and its history are not running out of breath.
In this issue of GraffitiART, we look to build a bridge between the past and the present. Our explorations of the streets of Belfast shed light on the captivating history of this town with a tradition of muralism that is rooted in wounds of the past. Beyond historical events, Urban Art gives a new life and puts a new face on abandoned or repurposed places. A perfect example being the transformation of the Tuileries Tunnel in Paris. In only a few months, this road tunnel whose pedestrianisation spilled a lot of ink, completed its transformation into a covered gallery much sought after by artists and Parisians. A different kind of transformation is taking place at the Prieuré de Vivion, where the worship of God gives way to the worship of Urban Art thanks to a patron of the arts. But urbex remains the most radical way to discover abandoned places, and we continue our adventures in Part II of Women of Urbex.
On the creative front, we continue to look for extraordinary projects and achievements. That is why we are putting the spotlight on the imagination and vortexes of Seth, whose agenda has never been so full. In his unique style, Bordalo II's bestiary and compositions made of recycled waste spread spotless environmental awareness. To complete our line-up, we also bring you Madame and her poetical collages, Manolo Mesa and his large-format still lifes, as well as Zabou with her hyper-realistic portraits from everyday life.
The entire GraffitiART team wishes you happy holidays and hopes to see you all in 2023 for more editorial adventures!
Street Art rejoices.