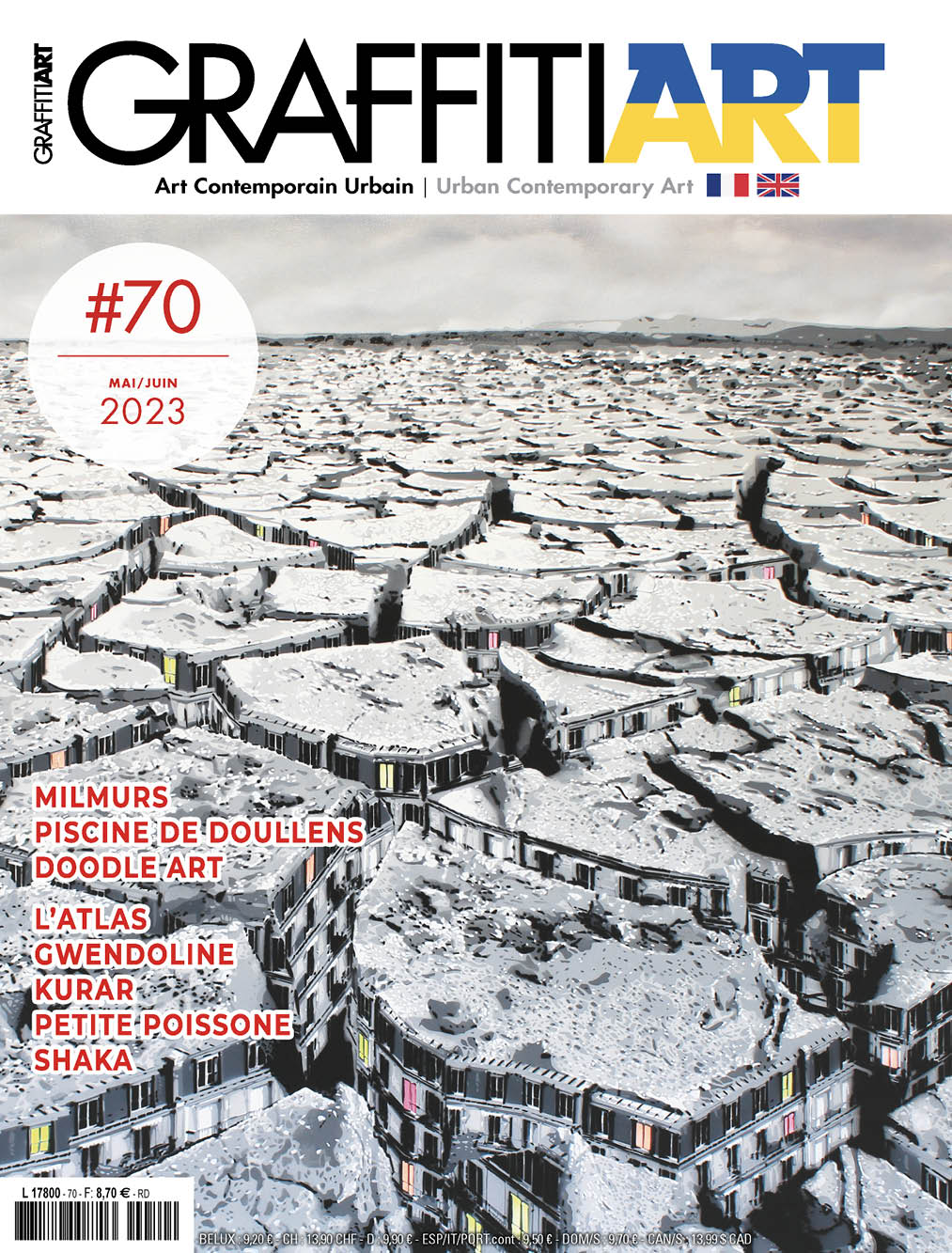 PLACE 2 ART
PISCINE DE DOULLENS
Investigations
DOODLE ART
Talents
L'ATLAS / GWENDOLINE / KURAR / PETITE POISONNE / SHAKA
Street Art, art with impact?
EDITO

#70 | May-June 2023
At a time when water usage restrictions have never been applied so early in the season, the questioning of climate change raised by Kurar in Surbanisation on the cover of GraffitiART #70 is extremely topical.
Kurar's commitment conveys urgent messages, through stencils, spray cans and brushes, about the environment, ethics, and social issues… For Petite Poissonne, her talent for catchphrases heightens the impact of her aphorisms. In a graphic world all his own, Shaka deconstructs the human figure in style that is a blend of hyperrealism and anthropology. As for the multi-skilled Gwendoline, she sets off to conquer vast urban spaces. And L'Atlas, in his distinctive style at the crossroads of calligraphy and lyrical abstraction, projects us into his world that is at the same time real and imaginary.
Let's look at another form of exaggerated graphics: Doodle Art, artistic expression halfway between compulsive drawing and automatic writing that is invading our streets, delivering an iterative and captivating aesthetic appeal.
Let's also hit the road to explore the MilMurs festivals, where mural art is in full bloom from Fort-de-France (FR) to Bègles (FR) via Montreal (CA). Then let's dive into the pool in Doullens (FR), taken over by the spray cans, stencils and brushes of some twenty urban artists, for an immersive aquatic-themed journey.
In view of the recent success of events dedicated to Urban Art, of the vitality of creation and of project leaders, the interest of the business world… Street Art is not dead but is instead earning its stripes! Street Art is a living asset and mindset.
Long live Street Art!