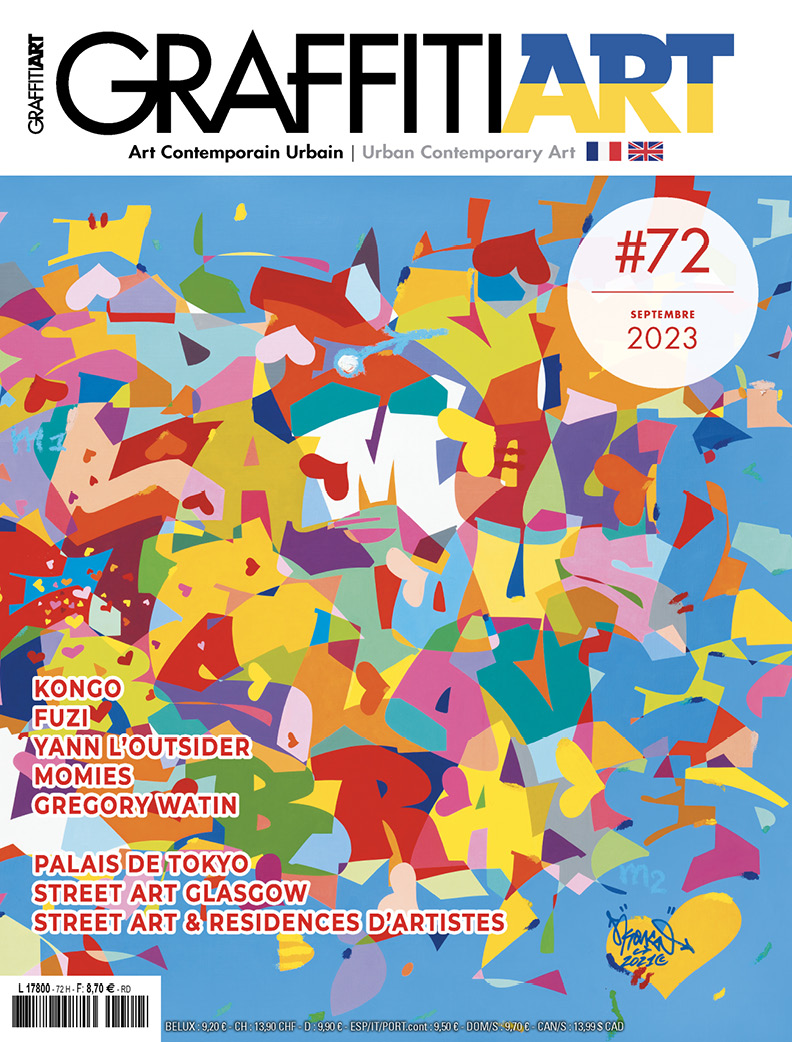 1 DESTINATION 5 SPOTS
GLASGOW
Investigations
STREET ART RESIDENCIES
Talents
KONGO / FUZI / YANN L'OUTSIDER / MOMIES / GREGORY WATIN
After the summer holidays, Street Art is starting a new year.
EDITO

#72 | September 2023
The festival season is over, and vernissages are back. Let's return to the galleries and talk to passionate gallerists who are essential actors in supporting the creations of both established and emerging artists.
Let's not forget that Urban Art lives in the street. 'Invader hunters' are here to keep reminding us of that. Glasgow remains to be invaded, however, even though the city has been the Scottish capital of Street Art for several decades, boasting the Glasgow Mural Trail, among other attractions.
Many street artists join residencies to push their boundaries and boost their creativity, thus actively contributing to the vibrancy and renewal of the movement. Artist residencies are yet another proof that Street Art is turning into Urban Contemporary Art. The exhibition La Morsure des termites at the Palais de Tokyo in Paris sheds light on the convergence of Street Art and Contemporary Art. The rebels are now in museums.
On the cusp between Street Art and Contemporary Art, Gregory Watin combines Street Art techniques, photography, and digital printing in a unique style. As for Kongo, a French street artist of international renown and an embodiment of Urban Contemporary Art, he unleashes his boundless and colourful creativity across media in whatever way he wishes. In very distinct styles, Yann L'Outsider and Momies unfold their
abstractions on both walls and canvas paintings, respectively exploring the subtleties of black and white for the first, and colour for the second. Last but not least, Fuzi uses trains and storefronts as the medium for his original artworks, albeit often very ephemeral.
Opening this September is our new shop, which you can explore at Shop.graffitiartmagazine.com.
Street Art needs you.