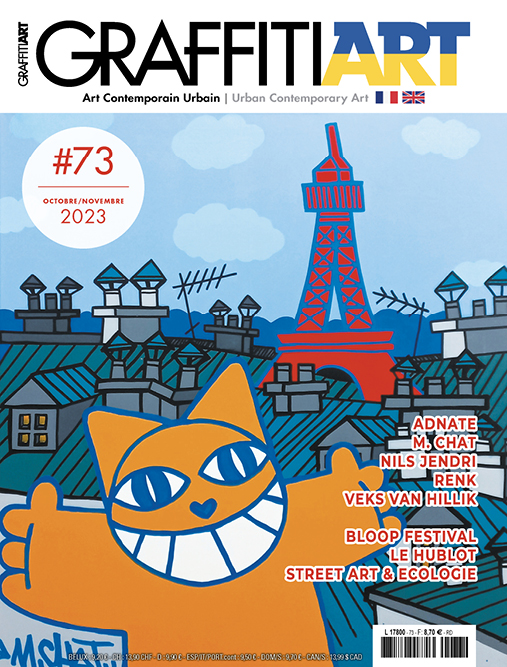 Investigations
STREET ART & ECOLOGY
Talents
ADNATE / M. CHAT / NILS JENDRI / RENK / VEKS VAN HILLIK
Urban Art, a societal megaphone
EDITO

#73 | October – November 2023
The time we are living is no doubt historical: climate, purchasing power, international tensions… Street artists have their word to say!
They are seizing on the big issue of the moment: climate change. Beyond ideological divides, their creations raise awareness and call people to take responsible action. Taking on the role of opinion leader, street artists tackle societal challenges as a source of inspiration and motivation.
In this ecological spirit, urban storyteller Veks Van Hillik stages his bestiary to defend an imaginary fauna. Adnate takes a critical look at the oppression of Australia's aboriginal people. As for M. CHAT, he draws bridges between continents by sending his big yellow-orange tomcat on walls around the world. Others take a purely artistic approach, such as Nils Jendri who innovates by freely spraying pigments on canvas, while Renk takes us into his graphically abstract world.
Let's keep the summer vibe alive with a look back at the BLOOP Festival in Ibiza. Aside from beaches, hiking and techno parties, Ibiza has become a new Street Art destination and is expanding the network of Urban Art hot spots. In Normandy, the Haras National du Pin is hosting an ephemeral equine bestiary. Meanwhile, the Hublot project is taking hold of an artists' studio building in Montrouge.
The 2023 edition of the Urban Contemporary Art Guide will be released mid-November. You can pre-order it online for a preferential price on https://shop.graffitiartmagazine.com before 30 October or by taking part in our new crowdfunding campaign on https://kkbb.graffitiartmagazine.com.
Street Art fires up.